Last Updated on October 5, 2023 by Admin
Table of Content
Eating food that is unfit for human consumption is one of the major causes of food poisoning  and common illnesses worldwide. WHO reports that one in 10 people suffer from food poisoning, estimated to be around 60 crores of people yearly, and result in 4,20,000 deaths every year. To prevent this, different ways of preserving food should be employed to bar the possibility of food spoilage.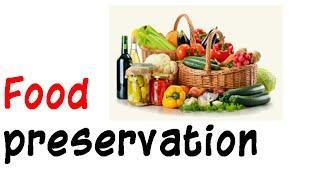 Food preservation protects food from microbial development, which differs from storing food in a covered container. Food stored properly is shielded from insects and flies, keeping it fresh for a little longer. However, it can't help extend the food's shelf life. Different kinds of food preservation methods can serve this purpose. 
Understanding Food Preservation Techniques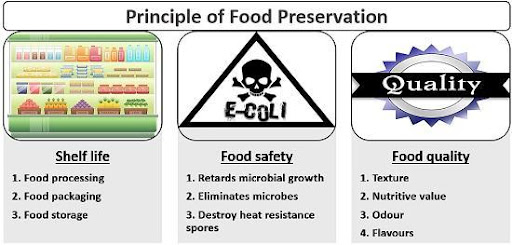 Food spoiling is simply the destruction or alteration of the food's natural nutritional content, texture, flavor, odor, or color to the point that it becomes unsafe for consumption. Food may get spoiled for several reasons. The following is a list of a few food spoilage factors:

1. Microorganism Contamination: Microorganisms, invisible to the naked eye, are omnipresent. Some are beneficial, aiding in processes like fermentation, but others can be harmful when they contaminate food and water. Pathogenic microbes like E. coli or Salmonella can cause serious illnesses. Contaminated products may appear, smell, and taste normal, emphasising the importance of safe handling and preparation measures. 

2. Insect Invasion: Insects, nature's recyclers, play a vital role in our ecosystem. However, their food storage or crop intrusion can lead to substantial economic losses. Certain pests, like the grain weevil or pantry moth, can ruin stored food. Furthermore, they can introduce pathogens or produce harmful waste. Protecting food sources through integrated pest management and keeping foods in sealed containers can deter these unwanted guests.

3. Natural Enzyme Breakdown: Enzymes are proteins that speed up chemical reactions. Present naturally in all living organisms; they assist in various processes like digestion or ripening. However, unchecked enzymatic activity in foods can cause spoilage. Over-ripened fruits or discoloured vegetables are often victims of their enzymes. Refrigeration and food preservatives can help slow this natural breakdown, preserving freshness and nutritional value.

4. Physical and Chemical Changes to the Cells: Every time we cook, freeze, or even chop foods, we cause physical and chemical changes to the cells. For example, the crispiness of fried food comes from the evaporation of water within the cells and the Maillard reaction on the exterior. These changes impact texture, flavour, and nutritional content. Understanding these alterations helps optimise food processing methods, ensuring delicious and nutritious results.

5. Oxidation: Oxidation involves the transfer of electrons. In foods, this process can lead to spoilage or undesired flavours. Have you ever noticed a sliced apple turning brown? That's oxidation in action. Fats and oils can become rancid through oxidation, compromising their taste and health benefits. Antioxidants, like vitamin C or E, combat this process. Packaging methods, like vacuum-sealing or using modified atmospheres, also help curtail oxidative damage, maintaining food quality.
Various food preservation techniques may prevent food from spoiling following harvest or slaughter. Food preservation methods go long back in history to prehistoric times. Drying, chilling, and fermentation are some of the earliest preservation techniques. Pasteurization, freezing, canning, irradiation, and the use of chemicals are examples of contemporary techniques. Modern food preservation has benefited greatly from advancements in packing materials.
Related Blog: Different Types and methods involved in Food Processing
Importance of Food Preservation Techniques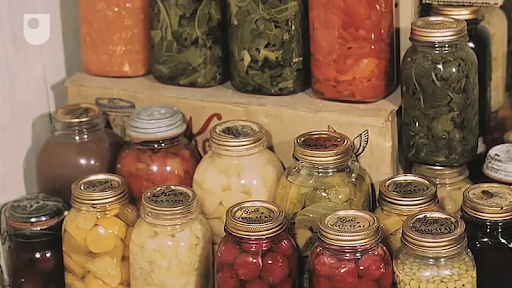 The main goal of food preservation is to keep food from spoilage before it is eaten. Nonetheless, there are additional reasons why this is crucial.
Food preservation techniques

prevent food from being wasted and keep it out of wet waste.

It enables us to purchase products even during the off-season. Today, we have access to apples, cauliflower, and peppers all year round.

Food preservation techniques keep the product from being ruined by microbial infections and enzyme activity.

 It lengthens the time that food may be stored.

It enables us to get perishables from distant locations.

Food preservation techniques maintain the food's nutritional content, color, texture, and flavor.
Ways of Preserving Food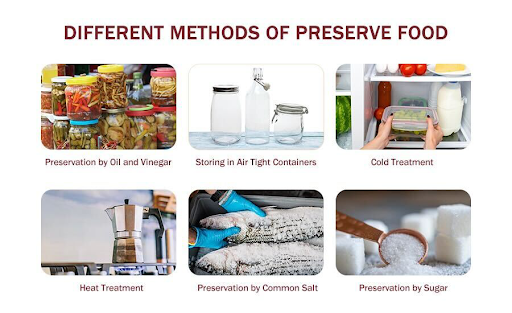 There are many
types of food preservation methods
used around the world. Here's a list of some top 6
ways of preserving food:
Drying
Drying is a time-honored method of food preservation. By reducing water content, this technique prevents bacterial development. Foods may be transported more readily since drying reduces weight. Food items can be stored by drying in the sun and wind. However, many advanced techniques have emerged, such as professional food dehydrators, shelf drying, spray drying, freeze drying, and home ovens. Using this technique, meat and fruits can be stored extensively long.
Smoking
Food is prepared by smoking, subjecting it to the smoke from burning wood to prepare, flavor, and preserve it. Most of the time, meats and fish are smoke-cured because the smoke has antibacterial and inhibitor properties. A square measure has been smoked in various methods, including smoke preparation, cold smoking, hot smoking, and smoke baking. However, it must be noted that smoking increases cancer risk when used as one of the ways of preserving food.
Freezing
One of the easiest, most practical, and speediest methods for preserving fresh vegetables is freezing. Food deterioration is decreased by freezing because the very low temperatures hinder the development of dangerous germs. When they are ripest and contain the most nutrients, fruits and vegetables may be cut and frozen at any time of the year.
Salting and Pickling
Meats lose moisture when they are seasoned. Pickling involves preserving food by submerging it in a salt solution, soaking it in vinegar, or using oil. At a 20% concentration, salt kills microorganisms and prevents their growth. Pickling may be done in various ways, including chemical pickling or fermentation. To lengthen their shelf life, sodium benzoate, or EDTA, is often added to commercial pickles.
Fermentation
For thousands of years, people have used fermentation to retain and preserve food. The Lacto-fermentation process transforms a food's carbohydrates into lactic acid, a naturally occurring preservative that prevents development of dangerous bacteria. Beyond benefits for preservation, it raises the nutrient content and the food's digestibility.
Vacuum Packing
Vacuum packing precedes the introduction of gases as a method of food preservation by eliminating air from a container before closing. Its primary function is to eliminate oxygen from the goods by bringing the packing material into intimate interaction with the food. Lack of oxygen prevents the growth and survival of microorganisms. 
Canning
Food has been preserved by canning for approximately 200 years. When food is canned, all the germs are eliminated by boiling it in a can or jar before the container is shut. The food in the can doesn't deteriorate since it is entirely sterile.
Sugaring
Similar to pickling, sugaring is a technique of food preservation. Sugaring is filling food with pure sugar after drying it first to desiccate it. This sugar might be crystalline, like a table or raw sugar, or a thick liquid that is heavily sweetened, like honey, syrup, or molasses.
Irradiations
By decreasing or eradicating insects and microbes, food irradiation or using ionizing radiation on food improves food safety and increases the lifespan of food items. Irradiation may make food friendlier for consumers for a long time, much like pasteurizing dairy and preserving vegetables and fruits.
Pasteurization
Pasteurization is one of the common food preservation techniques in which packed and unpacked food items, such as milk and fruit juices, are subjected to gentle heat, often at temperatures below 100 °C to destroy microorganisms and increase shelf life.
Takeaways
Consuming rotten or spoiled food can cause commonly occurring food poisoning. To avoid it, people should consume fresh food or carefully preserved eatables. Food Preservation Techniques have been used for a long time in history to increase the shelf-life of food so that humans can consume it for a long time. However, based on different food preservation techniques, people should always keep the expiry period of preserved goods in mind.
FAQs
Food preservation refers to preventing food deterioration, causing food poisoning and microbiological contamination in food.
Some of the most common food preservation techniques are heating, freezing, sugaring, salting, canning, pasteurization, and fermentation.
Avoiding contaminated food to avoid getting sick with food poisoning is important. Food preservation procedures prevent bacterial development and other sorts of spoiling, ensuring that the food is safe to consume in the future.